In 1976 Michael Landon directed a movie, "The Loneliest Runner", starring Lance Kerwin. Lance plays the

"child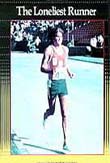 version" of Landon. Michael Landon was an Olympic hopeful pondering on his childhood through the movie. In the movie Lance is a 13 year old bedwetter, and his mother hangs his un-washed wet sheets outside his bedroom window in a cruel (boneheaded) effort to get him to stop the bedwetting. This is how he becomes such an excellent runner, having to run home for nearly a year to get the sheets out of his window, (lest his friends or best girl, played by Melissa Sue Anderson, see this embarrassment).

He eventually becomes a runner in the Olympic games, and he wins a gold medal!
A review of the movie by Marty Summers: " This movie is a brilliant portrayal of a close-minded, mean mother, who refuses to support her son with his problem. She really gets it in the end, and that makes the movie that much better. I love the triumph of the young man in the story, and the support his father finally gives him at the end of the movie. Good can triumph over evil..."
Below are Real Media clips of the movie (requires Real Player).

The movie is in three parts of about 25 minutes each. To watch the movie click below. Internet traffic can affect the movie speed, so if the movie slows down a lot, you may want to try again later.
Loneliest Runner Part 1 Loneliest Runner Part 2 Loneliest Runner Part 3
Sources:
Michael Landon: His Triumph and Tragedy
---